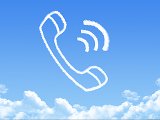 Kunden von Fujitsu können ab sofort vollwertige Telefonie aus der Cloud beziehen. Für Mittelständler und Konzerne bietet dieser neue Service die Zuverlässigkeit und den Funktionsumfang einer klassischen Telefonanlage gepaart mit Innovationen aus der Cloud.
Vollwertige Telefonanlage aus der Cloud für Mittelständler und Konzerne in Kooperation mit der NFON AG
Hosting ausschließlich in hochsicheren Rechenzentren in Deutschland
Skalierung auf bis zu 249.000 Nutzer
Die NFON Telefonanlage wird in zwei redundanten, hochsicheren Rechenzentren betrieben, was für eine maximale Erreichbarkeit und Zuverlässigkeit sorgt. Über die Kooperation mit NFON stellt Fujitsu ferner die für die Cloud-Telefonie notwendigen Endgeräte, wie IP-Telefone, DECT-Telefone, Konferenzspinnen und Telefonie-Zubehör, sowie CTI-Software, Smartphone-Apps und Softphones zur Verfügung. Dank des flexiblen Pay-as-you-use-Modells auf Portbasis und der Service- und Finanzierungs-Modelle "per Seat" erhalten die Kunden eine flexible und geschäftsorientierte Berechnungsgrundlage. Sie müssen nicht mehr in eine teure Telefonanlage investieren und damit verbundene Wartungsverträge abschließen, sondern können flexibel auf bis zu 249.000 Nutzer skalieren. Für die Einrichtung zusätzlicher Nebenstellen und neuer Funktionalitäten sind keine zusätzlichen Updates oder Erweiterungen notwendig.
Thomas Muschalla, Vice President Sales der NFON AG, sagt: "Wir freuen uns über die Zusammenarbeit mit Fujitsu. Fujitsu ist der richtige Partner, um eine integrierte Komplettlösung mit anspruchsvollen Service Levels für Unternehmen aller Branchen und Größen zur Verfügung zu stellen."
Dr. Rolf Werner, Head of Central Europe von Fujitsu, sagt: "Mit unserem Angebot für Communication as a Service (CaaS) können unsere Kunden Cloud-Telefonie und damit verbundene Dienstleistungen besonders komfortabel nutzen. Dazu kooperieren wir sehr eng mit unserem Partner NFON, einem weltweit führenden Anbieter für Telefonanlagen aus der Cloud. Leistungsbestandteile für die Telefonie werden von NFON geliefert und mit unserem Service veredelt. Im Vergleich zur Nutzung herkömmlicher Telefonanlagen können Unternehmen mit diesen Services ihre Total Cost of Ownership um bis zu 50 Prozent senken."
Communication as a Service von Fujitsu
Der neue Service für Unternehmen aller Branchen und Größen, NFON, ermöglicht die nahtlose Integration von mobilen Arbeitsplätzen und von Heimarbeitsplätzen und zeichnet sich durch eine enorme Skalierbarkeit aus – auch über diverse Standorte hinweg. Ohne Aufpreis profitieren die Kunden von einer Carrier-Grade-Redundanz sowie von flexiblen Verträgen, die eine bedarfsorientierte Anpassung des Services erlauben.
Die Angebote für Communication as a Service (CaaS), zu denen auch die Cloud-Telefonie zählt, werden ausschließlich aus deutschen Rechenzentren erbracht. Die Services sind sowohl als Single Service als auch als Ergänzung zu den Managed Services erhältlich und über mehrere Standorte hinweg übergreifend integrierbar.
Verfügbarkeit
Communication as a Service soll ab sofort von Fujitsu verfügbar sein.
Weitere Informationen: