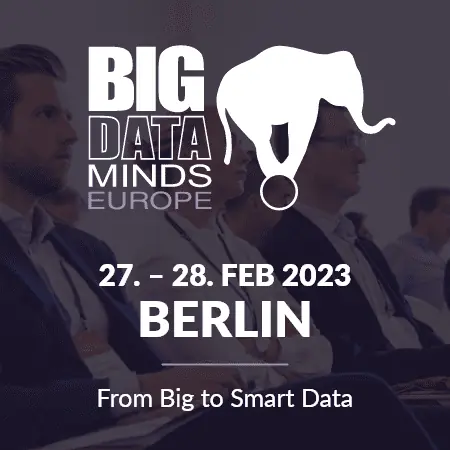 Berlin, Germany | February 26– 28, 2023: Exploring the best ways to generate value from data, Big
Data Minds Europe is a tailor-made platform for decision-makers to discuss efficient data
management, data analytics, and data governance concepts and showcase successful Big Data
projects.
The leading European data management networking event brings together more than 150 Chief Data
Officers, Senior Data Architects, Data Engineers, Data Governance, and Data Analytics practitioners
to team up, exchange experiences and find optimal solutions for the effective use of data in
organizations and enable a true data-driven algorithmic business.

Key Topics of Big Data Minds Europe:
Data Governance: How to roll out a data governance program to increase data quality and
promote data literacy?
Cloud Native: How to build a cloud-native data lakehouse and how to enable cloud-native
tooling?
Data Mesh & Autonomy: Why Data Mesh is a perfect tool for better autonomy and
decentralization?
Data Architecture: How to implement a target data-driven architecture approach in your
organization?
Data Lake & Digital Transformation: How to evaluate and forecast data lake inputs? How to
use data catalogue and data lake as part of a digital transformation program?
Business ROI: How to master real-time data monetization?
Complexity: How to maximize value while reducing the complexity of data processing and
visualization?
Data Analytics: How to accelerate data analytics processes?
And More
20+ influential speakers will share their expertise through case studies and interactive roundtable
discussions – join us live!
Do you want to join our Big Data Community? Big Data Minds Europe takes place from February
26 – 28 at Titanic Chaussee Hotel Berlin.