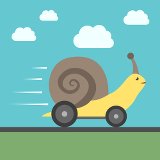 Südkorea ist nach wie vor das Land mit der schnellsten Internet-Geschwindigkeit. Deutschland liegt im Ranking weit abgeschlagen auf Platz 25 im weltweiten Vergleich.
Aber auch in Europa kann in vielen Ländern deutlich schneller gesurft werden als hierzulande.
Die weltweite durchschnittliche Verbindungsgeschwindigkeit stieg seit dem 4. Quartal 2016 um 2,3 Prozent auf 7,2 Mbit/s – im Vergleich zum Vorjahr entspricht das einer Steigerung von 15%. Auf Landes- bzw. regionaler Ebene verfügt Südkorea mit 28,6 Mbit/s weiterhin über die durchschnittlich höchste Verbindungsgeschwindigkeit weltweit – dieser Wert ist seit dem 4. Quartal 2016 um 9,3% gestiegen. Auch Singapur konnte seine Position als Land mit der höchsten durchschnittlichen Spitzengeschwindigkeit von 184,5 Mbit/s halten. Deutsche sind im Internet vergleichsweise langsam unterwegs. Der aktuellen Ausgabe des State of the Internet Reports (Q1 2017) zufolge liegt die Bundesrepublik im Ranking der Länder mit dem schnellsten Internetzugang derzeit auf Platz 25 (15,3 Mbit/s). Damit hat sich die Positionierung Deutschlands im Vergleich zum 4. Quartal 2015, in dem es Platz 22 erreichte, nochmals verschlechtert.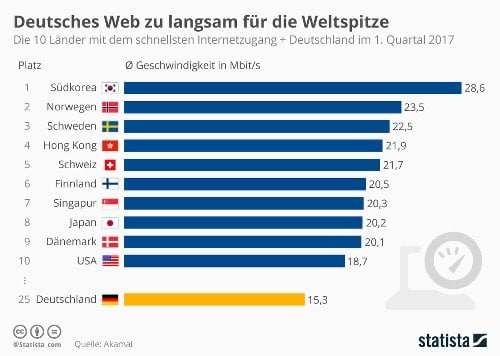 Bild 1: Im weltweiten Ländervergleich der durchschnittlichen Internet-Geschwindigkeit belegt Deutschland nur Platz 25 (Datenquelle Akamai, Bildquelle Statista).
Weltweit lag die Einführung von Breitband mit 4 Mbit/s im ersten Quartal bei 82%, also 3,3% mehr als im vorherigen Quartal. Guernsey und Südkorea weisen mit jeweils 98% die weltweit höchsten Einführungsraten auf. Die globale Einführung von 10-, 15- und 25-Mbit/s-Breitband nahm im Vergleich zum letzten Quartal deutlich zu: Sie stieg um 9, 11 bzw. 16 Punkte auf 45, 28 und 12%. Wie in vielen bisherigen Quartalen führt Südkorea mit 85, 69 und 40% – das entspricht Steigerungen von 3,1, 7,8 und 1 % – auch weiterhin in sämtlichen Breitbandkategorien.
Die wichtigsten Fakten für Europa
Durchschnittliche Verbindungsgeschwindigkeiten (IPv4)
Trotz einer leichten um Abnahme der durchschnittlichen Verbindungsgeschwindigkeiten behielt Norwegen im ersten Quartal 2017 den Spitzenplatz für diese Metrik unter den befragten europäischen Ländern. Wie Bild 2 zeigt, beträgt der Unterschied der durchschnittlichen Verbindungsgeschwindigkeiten zwischen Norwegen und Zypern, dem Land mit langsamsten Internet der Region, im ersten Quartal fast 17 Mbps - wie bereits auch m Vorquartal. Ebenso wie im Vorquartal hatten 27 der 31 befragten europäischen Länder durchschnittliche Verbindungsgeschwindigkeiten bei oder über der 10 Mbps-Schwelle.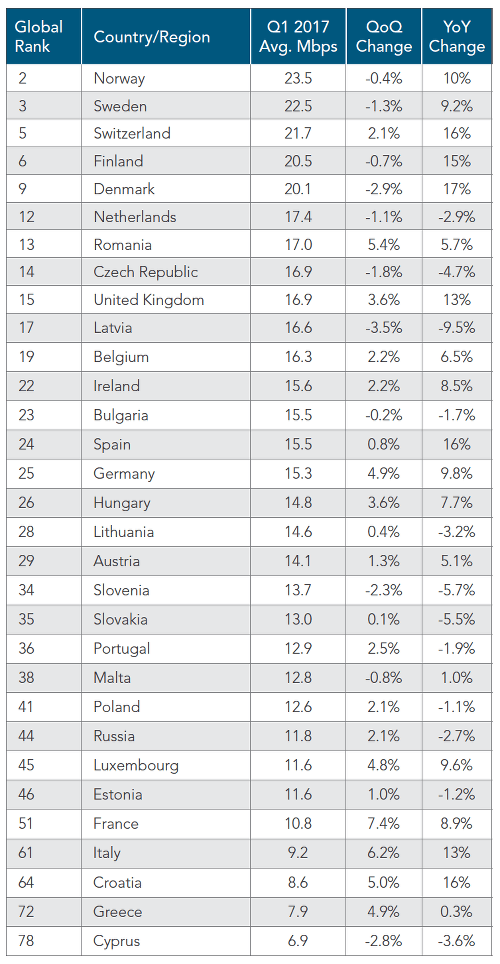 Bild 2: Durchschnittliche IPv4-Geschwindigkeit in Europa (Bildquelle Akamai).
Durchschnittliche Höchstgeschwindigkeiten (IPv4)
Im ersten Quartal 2017 überholte Schweden den bisherigen Führer Rumänien als das europäische Land mit der höchsten durchschnittlichen Höchstgeschwindigkeit. Der Unterschied zwischen Schweden und dem Schlusslicht Zypern betrug beträchtliche 60 Mbps (siehe Bild 3). Achtundzwanzig Länder hatten durchschnittliche Höchstverbindungsgeschwindigkeiten von mindestens 50 Mbps. Mit Ausnahme von Luxemburg, das im Vergleich zum Vorjahreszeitraum einen Rückgang von 1,9% gegenüber dem Vorjahr verzeichnete, waren im ersten Quartal die jährlichen Veränderungen für die befragten europäischen Länder positiv. Kroatien führte die Region mit einem jährlichen Anstieg von 54%, während Lettland mit 5,8% den kleinsten Gewinn erzielte. Insgesamt besaßen 28 der 31 befragten Länder ein zweistelliges jährliches Wachstum bei den durchschnittlichen Höchstverbindungsgeschwindigkeiten.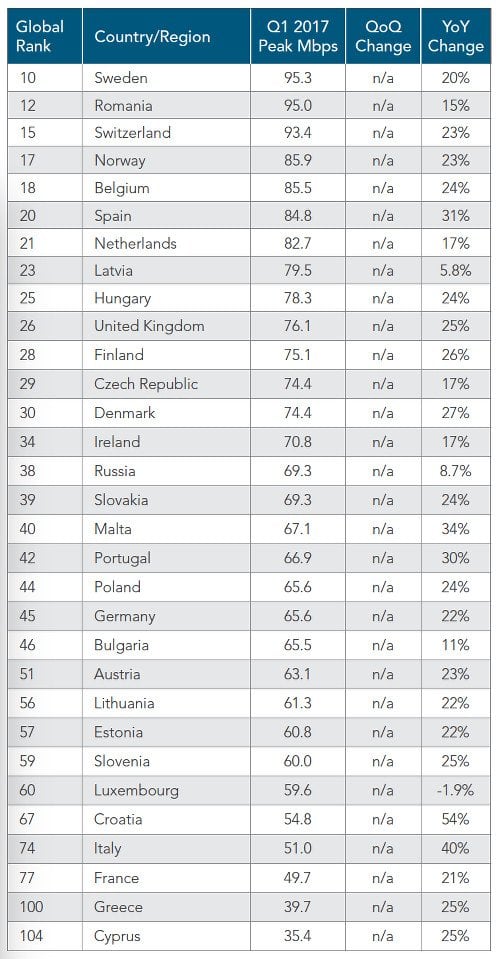 Bild 3: Durchschnittliche IPv4-Höchstgeschwindigkeit in Europa (Bildquelle Akamai). Trotz des Wachstums von 22% im Vergleich zum Vorjahr liegt Deutschland nur auf Platz 45.
IPv6-Einführung
Europa ist im Hinblick auf die IPv6-Einführung weiterhin führend: Sechs europäische Länder befinden sich unter den ersten Zehn. Die vier nichteuropäischen Länder unter den ersten Zehn sind die USA, Trinidad und Tobago, Indien und Brasilien. Mit 38% der mit Akamai über IPv6 hergestellten Verbindungen führte Belgien weiterhin. Damit lag das Land 13% vor dem Zweitplatzierten Griechenland.

Bild 4: IPv6-Traffic im 1. Quartal 2017 in Prozent (Bildquelle Akamai).
Festnetz- und Mobilfunkanbieter sind nach wie vor für den Großteil der IPv6-Anfragen verantwortlich. Viele davon nehmen eine Vorreiterrolle für die Einführung von IPv6 in ihren jeweiligen Ländern ein. Bei insgesamt 16 Anbietern (verglichen mit 17 im 4. Quartal 2016) erfolgten mindestens 25% der Anfragen über IPv6. Bei Deutsche Telekom beträgt der Anteil an IPv6-Traffic 32 Prozent und bei Kabel Deutschland 49 Prozent.
Mobile Verbindungen
Im 1. Quartal 2017 bewegten sich die durchschnittlichen Verbindungsgeschwindigkeiten für mobile Geräte (nach Ländern/Regionen zusammengefasst) zwischen Höchstwerten von 26 Mbit/s in Großbritannien und Tiefstwerten von 2,8 Mbit/s in Venezuela. In dieser Kategorie liegt Deutschland mit 24.1 Mbps auf Rang 2. Gemäß den von Ericsson erfassten Daten ist das mobile Trafficvolumen seit dem letzten Quartal um circa 12 Prozent angewachsen.

Der mobile Datenverkehr hat weiter stark zugenommen, im Vergleich dazu ist das Wachsum des Sprachverkehrs zu einem niedrigen einstelligen Wert pro Jahr geschrumpft. Das Wachstum des Datenverkehrs wird einerseits durch immer mehr Smartphone-Anwender vorangetrieben, andererseits auch durch eine kontinuierliche Erhöhung des durchschnittlichen Datenvolumens pro Anwender. Dazu tragen vor allem jene Anwender bei, die immer mehr Videos auf ihren Smartphones anschauen. Im ersten Quartal 2017 stieg der Datenverkehr um fast 12% gegenüber dem Vorquartal und fast 70% gegenüber dem Vorjahr. Betrachtet man die volle Fünfjahresperiode, die in Bild 5 gezeigt ist, betrug das kumulierte Sprachverkehrswachstum 28%, während das kumulierte Datenverkehrswachstum mehr als 1.200% betrug.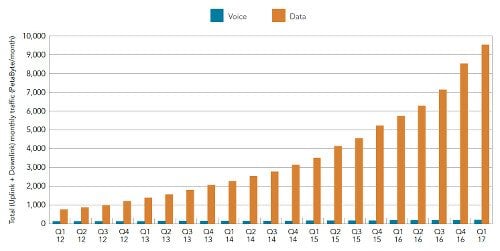 Bild 5: Der globale monatliche Daten- und Sprachverkehr gemessen in PetaBye pro Monat vom 1. Quartal 2012 bis zum 1. Quartal 2017 (gemessen von Ericsson).