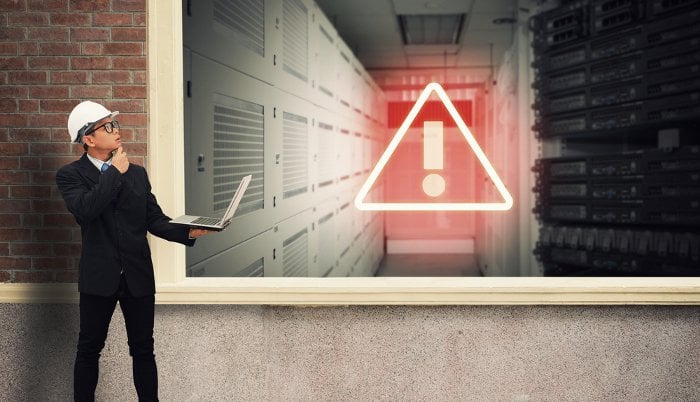 Netzwerkinfrastrukturen sind heute die Blut- und Nervenbahnen für Geschäftsprozesse, insbesondere mit der Entwicklungsbeschleunigung von Cloud-Services, Big Data und IoT. Mehr und mehr kritische Daten laufen über Netzwerke.
Deshalb ist eine zuverlässige Überwachung und Verwaltung von Rechenzentren, Serverräumen und Remote-Standorten oft für das gesamte Unternehmen geschäftsrelevant. Dies erfordert eine nach allen Regeln der Kunst robust designte Infrastruktur. Im Unterschied zu herkömmlicher In-Band-Fernwartung kann mit Out-of-Band-Management (OOB) auch bei Ausfall der üblichen Kommunikationsverbindungen von LAN und DSL weiterhin auf Geräte zugegriffen und zeitnah eine Ferndiagnose und Fehlerbehebung durchgeführt werden.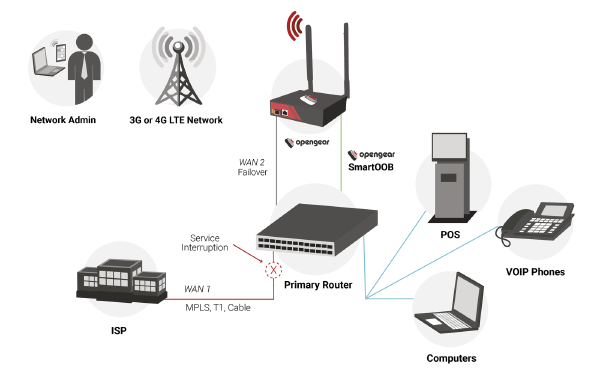 Bild: Mit Out-of-Band-Management (OOB) kann auch bei Ausfall der üblichen Kommunikationsverbindungen von LAN und DSL weiterhin auf Geräte zugegriffen und zeitnah eine Ferndiagnose und Fehlerbehebung durchgeführt werden – per serieller Schnittstelle oder via Ausfalllösung per Mobilfunk (4G LTE oder 3G) für eine schnelle Verbindung.
Da Serverräume und IT-Zentralen heutzutage meist existenzielle Bedeutung für nahezu alle Vorgänge in einem Unternehmen haben, werden sie mit hohem technischen Aufwand für Zugangskontrolle, Klimatisierung, Brandschutz und weiteren Notfalleinrichtungen gesichert. Unregelmäßigkeiten, technische Ausfälle und unzulässige Temperaturveränderungen müssen sofort gemeldet werden, auch nachts und an Wochenenden. Auslöser für Systemausfälle können allgemeine Hardwareprobleme oder eine Vielzahl von Umgebungsbedingungen sein. Kupfer- oder Glasfaser-Kabelverbindungen, Stromversorgung, Switches, abgedichtete Computergehäuse, Storage-Arrays und Klimaanlagen sind nur einige Fehlerquellen. Die meisten Netzwerkelemente werden immer komplexer, führen hochentwickelte Software-Stacks aus und sind anfällig für Bugs, Exploits, Cyberangriffe oder Umgebungseinflüsse wie Temperatur und Feuchtigkeit. Die IT-Abteilung muss daher sicherstellen, dass alle Infrastrukturen, einschließlich der Netzwerkgeräte wie Router, Switches, WAN-Optimierungslösungen, Firewalls sowie alle verteilten Anwendungen und Server korrekt installiert und gewartet sind.
Netzwerk-Ausfallzeit und Meantime to Repair (MTTR) bei herkömmlichen In-Band-Lösungen
Um diese IT-Infrastrukturen zuverlässig zu überwachen und zu managen, benötigen die IT-Verantwortlichen ein von der überwachten Infrastruktur unabhängiges System. Denn im Ernstfall sind oft auch die üblichen Kommunikationsverbindungen über LAN oder DSL vom Ausfall betroffen. Herkömmliche Fernwartung findet über In-Band-Tools wie Telnet (Teletype Network) als gängige Methoden für Fernzugriff und Wartung statt, allerdings sind diese auf die Verfügbarkeit des Netzwerks angewiesen. Kommt es zu großen technischen Problemen wie Netzwerk- oder Konnektivitätsausfällen, haben Administrationsteams keine Möglichkeit mehr, aus der Ferne auf Geräte zuzugreifen. Ein technischer Mitarbeiter muss losgeschickt werden und kann häufig erst vor Ort feststellen, welches konkrete Problem vorliegt und was zur Lösung nötig ist, zum Beispiel die Bestellung eines Ersatzteils oder -geräts. Dadurch wird der Einsatz oft zeitaufwändig und kostenintensiv, selbst wenn nur ein defekter Lüfter ausgetauscht werden oder eine Netzwerkkomponente neu gestartet werden muss. Dies bedeutet, dass die Meantime to Repair (MTTR) und die Netzwerkausfallzeit steigen. Dies führt zu weiteren Folgekosten durch Verzögerung des Arbeitsbetriebs, beispielsweise weil Mitarbeiter nicht auf ihre Arbeitsumgebung zugreifen können oder im Industriebereich ganze Produktionsabläufe gestört werden.
Unabhängiger Fernzugriff auf die IT-Infrastruktur per Out-of-Band – seriell und per Mobilfunk
Out-of-Band-Management ist keine neue Idee. Appliances wie Terminal- und Konsolenserver unterstützen Netzwerkingenieure und Administratoren bereits seit langem in gut ausgestatteten Rechenzentren, zum Beispiel bei Cloud Service Providers, bei der Wartung und Problembehebung. Klassischerweise ermöglichten sie den Zugriff auf den seriellen Konsolen-Port (RS232) eines Netzwerkknotens, um ihn wieder in Betrieb zu nehmen oder ein Firmware-Upgrade durchzuführen. Doch der OOB-Ansatz hat sich weiterentwickelt. Die serielle Schnittstelle ist bei heutigen Lösungen nicht die einzige Option. Hinzu kommen nun USB-, Ethernet- und Fibre-Management-Anschlüsse sowie für eine schnelle Verbindung eine Ausfalllösung per Mobilfunk (4G LTE oder 3G).
Administratoren können per Out-of-Band (OOB) somit eine alternative Verbindung aufbauen, wenn das primäre Netzwerk ausfällt, auf kritische Geräte zugreifen und diese per Fernwartung reparieren oder den genauen Fehler feststellen. Oft genügt bereits ein einfacher Neustart des ausgefallenen Geräts, andernfalls kann bereits im Vorfeld eine Ferndiagnose durchgeführt werden und ein Techniker vor Ort tauscht die entsprechende Komponente rasch aus.
Automatisierung mit Out-of-Band-Management: Diagnose, Reparatur und Reporting
Doch nicht nur im Krisenfall bietet Out-of-Band-Management Vorteile, denn viele Probleme können damit bereits automatisch erkannt und behoben werden, bevor sie den lokalen Datenverkehr beeinträchtigen. Heute verfügen führende OOB-Lösungen über ein Autoresponse-System, um Netzwerkausfälle zu beheben, indem sie Diagnose- und Reparaturhilfen für häufig auftretende Probleme verwenden. Diese Selbstheilungsmaßnahmen geschehen mit Wiederherstellungsskripten ohne menschliches Eingreifen.
Zum Beispiel erkennt ein Out-of-Band-Konsolenserver einen Router, der nicht mehr erreichbar ist, und führt automatisch einen Neustart durch, einschließlich Benachrichtigung des Administrators per SMS oder E-Mail. Auch können Konsolenserver so konfiguriert werden, dass sie kritische Geräte ordnungsgemäß herunterfahren, falls die Temperatur im Rack zu hoch ist oder die unterbrechungsfreie Stromversorgung (USV) einen Stromausfall erkennt und die Batterieleistung unter einen definierten Schwellenwert sinkt.
Mit Out-of-Band-Management ist ein automatisiertes Strom-Management möglich, und Administrationsteams können die Verwaltung von hunderten PDUs und USV-Systemen verschiedener Anbieter konsolidieren. Ebenso lässt sich heutzutage durch den Einsatz von Sensoren nahezu die gesamte Infrastruktur überwachen, einschließlich der physischen Umgebung wie Temperatur, Feuchtigkeit, Rauch oder Vibrationen. Per E-Mail, SMS und SNMP-Traps lassen sich Alarme versenden, zudem können automatisierte Reaktionsabläufe auf Ereignisse festgelegt werden, inklusive Protokollierung für detaillierte Berichte. Weiterhin ermöglicht OOB eine hohe Skalierbarkeit durch schnelle und automatisierte Bereitstellung von Konsolen für große IT-Infrastrukturen. Mit Softwarelösungen können Admins dabei zentral eine Vielzahl an Konsolenservern und PDUs herstellerunabhängig konfigurieren, verwalten und überwachen.
Zentrales Management, Deployment, Zero Touch Provisioning (ZTP) und Monitoring
Zur Abrundung einer intelligenten OOB-Lösung gehört ein entsprechendes SW-Management-Tool, welches Administratoren einen zentralen Blick auf alle, zum Teil weltweit installierten Konsole-Manager und deren angeschlossene Geräte bietet oder ihnen hilft, neue Geräte einfach und ohne lokale Eingriffe vor Ort in die bestehende Netzwerkstruktur einzubinden. Software Tools moderner OOB-Lösungen können auf beliebigen VMWare Sessions installiert werden. Auch ist es Administratoren damit möglich, die zu verwaltenden Geräte nach Usern, Standorten oder Herstellern zu gruppieren, um somit eine möglichst einfache Verwaltung abbilden zu können. Zudem verfügen diese Tools über eine Restful-API Schnittstelle und können damit in andere, auch bereits bestehende Management-Tools integriert werden.
Wer braucht Out-of-Band-Management?
Vieles spricht dafür, dass Out-of-Band-Management in Zukunft in immer mehr IT-Infrastrukturen eingesetzt wird, auch in kleineren Organisationen. OOB eignet sich überall dort, wo ein sicherer und verlässlicher Fernzugriff sowie eine Automatisierung für kritische IT-Infrastrukturen benötigt wird, ob im Bereich Finanzindustrie, digitale Kommunikation, Einzelhandel oder Fertigungsindustrie. Gerade für Unternehmen mit Filialnetzen, verteilten Rechenzentren, Produktions- oder Office-Standorten bietet Out-of-Band-Management eine günstige Möglichkeit, eine nahtlose Konnektivität zu gewährleisten.
Anwendungsbeispiel Finanzindustrie: Fernwartung mit sicherer Kommunikation
Zur Erkennung und Lösung von IT- und Kommunikationsproblemen entschied sich zum Beispiel eine internationale Bankengruppe mit 250 Zweigstellen für ein Upgrade des Remote Managements ihrer kritischen Netzwerke und IT-Infrastrukturen. Wichtige Kriterien waren eine starke Datenverschlüsselung für sichere Kommunikation, integrierter Out-of-Band-Zugriff für Bereitstellung, Wartung und Reparatur kritischer Systeme sowie eine skalierbare Lösung für die Rechenzentrums- und Filialstandorte.
Die eingesetzte Out-of-Band-Management-Lösung ermöglicht Administratoren nun vereinfachte Fernverwaltung, inklusive Backup und Wiederherstellung der Konfiguration verwalteter Infrastrukturen und Betriebssystem-Images, Off-Site-Konfiguration der Netzwerkinfrastruktur bei Remote-Installationen und –Upgrades. Weitere Vorteile sind eine starke Verkürzung der Reparaturzeit bei Infrastrukturproblemen, bis hin zum Totalausfall der WAN-Konnektivität. Um die strenge Sicherheitskonformität bei sensiblen Finanztransaktionen zu gewährleisten, hat die Bankengruppe in jeder Filiale, bei der Out-of-Band-Management zum Einsatz kommt, einen seriellen OOB-Konsolenserver und ein PSTN-Gateway integriert, verstärkt mit einer Stateful Firewall, FIPS 140-2-zertifiziertem SSL, Strong-cipher SSH, OpenVPN und IPsec VPN.
Kernaufgabe Netzwerkkonnektivität
Solche Szenarien machen derzeit Schule. Mit der fortschreitenden Bedeutung von Vernetzung und Digitalisierung wird die schnelle Identifizierung und Behebung von Verbindungsproblemen zu verteilten Infrastrukturen eine Kernaufgabe für Unternehmen. Deshalb benötigen Administratoren-Teams ein Framework, um Remote-Komponenten jederzeit zentral verwalten und überwachen zu können. Die Bereitstellung, Orchestrierung und Fernverwaltung von Netzwerkgeräten durch OOB-Management ermöglicht es, Rechenzentren und Remote-Standorte zuverlässig und effizient zu verwalten, Vorgänge zu automatisieren und Probleme rasch zu beheben. Bezahlt macht sich der Einsatz meist bereits durch wenige Minuten vermiedener Ausfallzeit und den ersten eingesparten Support-Einsatz vor Ort.
www.opengear.com