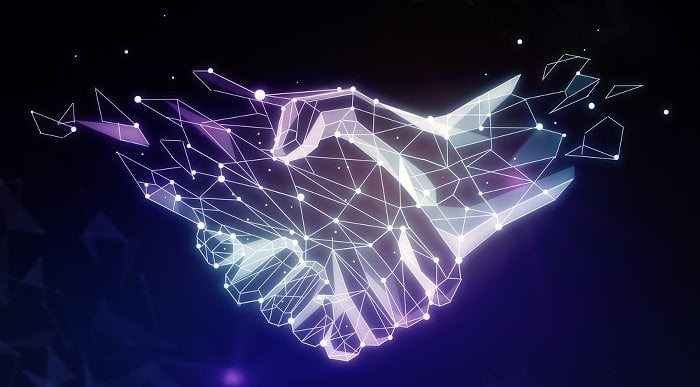 T-Systems und Microsoft gehen eine strategische Partnerschaft ein, um Public Cloud Services auf vier Feldern voranzutreiben: SAP-Anwendungen, Managed Services auf Microsoft Azure und Microsoft 365, digitale Lösungen mit künstlicher Intelligenz (AI) und Mixed Reality sowie Internet of Things (IoT).
Enge Kooperation startet mit Angeboten für das Internet of Things
Gemeinsam für die Digitalisierung der Industrie
In einem ersten Schritt werden beide Unternehmen ihre Zusammenarbeit im Bereich IoT intensivieren, wie Telekom-Vorstand und T-Systems-CEO Adel Al-Saleh und Microsoft Executive Vice President Jean-Philippe Courtois am Montag auf der Hannover Messe ankündigten.
"Einer der zentralen Bausteine bei der Neuaufstellung von T-Systems ist unsere Strategie 'Public Cloud first'", erläuterte Al-Saleh, "umso mehr freue ich mich, dass wir unsere langjährig bewährte Partnerschaft mit Microsoft ausbauen und unsere Stärken als Service Provider für die europäische Industrie einerseits und global skalierender Cloud-Anbieter andererseits kombinieren können."
Courtois erklärte: "Wir bieten mit Microsoft Azure eine global skalierbare und vertrauenswürdige Cloud-Infrastruktur kombiniert mit der Leistungsfähigkeit intelligenter Daten- und KI-Dienste. Dazu kommt die langjährige Exzellenz von T-Systems im operativen Geschäft, die auf die individuellen Kundenbedürfnisse zugeschnitten ist sowie erstklassige Konnektivität über die Plattform der Deutschen Telekom bietet."
IoT as a Service: von der Plattform bis zur Ende-zu-Ende-Lösung
Der erste Bereich der Zusammenarbeit ist IoT: Mit Azure als Cloud-Plattform entwickelt und betreibt T-Systems die Plattform "Cloud of Things - built on Microsoft Azure". Die Lösung bietet vorkonfigurierte IoT-Services "out of the box" wie Fernüberwachung für die Logistik, After-Sales-Lösungen im Automotive-Bereich und Track & Trace-Lösungen. Die offene und modulare Architektur basiert auf Microsoft Azure IoT-Diensten und gewährleistet eine effiziente Anpassung und flexible Erweiterung der Plattform. Alle für den Aufbau einer IoT-Lösung erforderlichen Funktionen wie Geräte- und Benutzerverwaltung, Analyse, Ereignismanagement und konfigurierbare Dashboards sind direkt verfügbar und können nach Kundenwunsch angepasst werden. Die offene Architektur ermöglicht die Integration zusätzlicher Dienste, Geräte und Maschinen, so dass Unternehmen einfach und effizient komplette End-to-End-Lösungen aufbauen können.
Microsoft hat bereits 50 Azure-Regionen weltweit angekündigt – mehr als jeder andere Cloud-Anbieter– und bietet Geschäftskunden damit eine globale Abdeckung. Microsoft setzt den Ausbau von Azure mit dem Ziel fort, die Bedürfnisse weltweit führender Branchen und Organisationen zu erfüllen: von Leistungsfähigkeit und Verfügbarkeit über lokale regulatorische Anforderungen bis hin zu individuellen Präferenzen, wo Daten gespeichert werden sollen.
Cloud-Services werden im Lösungsgeschäft für Großkunden immer wichtiger. Unternehmen verlagern immer mehr Anwendungen in die Cloud, um die Vorteile von schneller Skalierbarkeit, Effizienz und geringeren Kosten zu nutzen. T-Systems unterstützt seine Kunden mit Managed Services für Infrastruktur, Plattformen und Anwendungen aus der Cloud, damit sie sich auf ihr Kerngeschäft konzentrieren können.
www.telekom.com