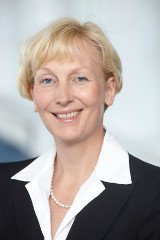 Neue Vorsitzende der Geschäftsführung der Microsoft Deutschland GmbH wird Sabine Bendiek. Sie übernimmt diese Position als Area Vice President und berichtet an Jean-Philippe Courtois, President Microsoft International.
Sabine Bendiek tritt ihre neue Funktion Anfang 2016 an und übernimmt dann die Verantwortung für das Geschäft von Microsoft in Deutschland mit mehr als 2.700 Microsoft-Mitarbeitern und das Geschäft mit mehr als 31.500 Microsoft-Partner-Unternehmen. Bendiek steht damit den Bereichen Sales, Marketing und Services vor, die Kunden und Partner deutschlandweit unterstützen, optimale Geschäftsergebnisse auf Basis von Software, Services und Devices von Microsoft zu erzielen. Im Mittelpunkt stehen dabei der Ausbau des Bereiches Personal Computing, die Umgestaltung von Produktivitäts- und Geschäftsprozessen und Aufbau der intelligenten Cloud in Umsetzung der Unternehmens-Mission, jede Person und jede Organisation auf dem Planeten zu befähigen, mehr zu erreichen.
Jean-Philippe Courtois, President Microsoft International, kommentiert die Ernennung von Sabine Bendiek: "Wir sind begeistert, dass Sabine Bendiek zu diesem für Microsoft und auch für Microsoft in Deutschland entscheidenden Zeitpunkt in unser Unternehmen eintritt. Um als Unternehmen erfolgreich zu sein, das auf die Devise 'Mobile First, Cloud First' setzt, ist es entscheidend, die Topleute unserer Branche zu gewinnen, die über Expertise in den Bereichen Cloud und Mobilität verfügen. Sabine Bendiek wird mit ihren vielfältigen Erfahrungen dafür sorgen, dass sich Microsoft Deutschland auch künftig auf Wachstumskurs befindet."
"Ich freue mich sehr darauf, jetzt zu Microsoft zu stoßen. Das Unternehmen ist hervorragend aufgestellt und in der Lage, Kunden und Partner in sämtlichen Wirtschaftszweigen weltweit dabei zu unterstützen, von den Effekten der digitalen Transformation zu profitieren. Ich sehe eine überzeugende Strategie, herausragende Produkte und vor allem großartige Mitarbeiterinnen und Mitarbeiter. Damit verfügt Microsoft über sämtliche Faktoren für den Erfolg. Daher sehe ich den Aufgaben im deutschen Team mit Spannung entgegen", so Bendiek.
Als Führungskraft in der Technologiebranche mit über 20 Jahren Berufserfahrung wechselt Sabine Bendiek von ihrer aktuellen Stelle als Vice President und General Manager von EMC Deutschland zu Microsoft. In der Position bei EMC zeichnet sich Bendiek verantwortlich für die Geschäftsaktivitäten im deutschen Markt und konzentrierte sich auf die Umgestaltung des Unternehmens mit einem von auf Speichersystemen ausgerichteten Geschäftsmodell in einen Anbieter von hybriden Cloud- und Softwarelösungen. Darüber hinaus verfügt Sabine Bendiek über langjährige Erfahrungen im SMB- und Channel-Bereich. Bevor Bendiek den Posten der Geschäftsführerin von EMC Deutschland übernahm, verantwortete sie bei Dell das Small and Medium Business in Deutschland, der Schweiz und Österreich und steuerte dabei einen erheblichen Anteil zum Unternehmensumsatz bei. Zu Beginn ihrer Karriere war Bendiek zudem bei McKinsey, Booz Allen und Siemens Nixdorf Information Systems beschäftigt.
Sabine Bendiek ist Absolventin des Studiengangs Managementwissenschaften am Massachusetts Institute of Technology (MIT) in Cambridge (MSc) und studierte Betriebswirtschaft an der Universität Mannheim mit Abschluss als Diplom-Betriebswirtin.