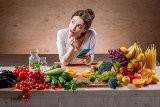 Forscher der University of Oxford haben eine neue App kreiert, die auf Basis des Gesichtsausdrucks dem User vorschlägt, welches Essen aktuell am besten passt. Mithilfe der Gesichtserkennung wird unter sechs verschiedenen Emotionen unterschieden. Die App ist in Zusammenarbeit mit dem britischen Lieferservice Just Eat entwickelt worden.
"Es erfolgt eine akkuratere sowie objektivere Beurteilung der Laune, an welche die Selbsteinschätzung nicht heranreicht", schildert Charles Spence von der University of Oxford. Oftmals können und wollen Menschen nicht kommunizieren, was sie fühlen. "Es gibt bereits zunehmend Belege dafür, dass die emotionale Stimmung einen erheblichen Einfluss auf den Geschmack und das Geruchsempfinden hat", erklärt Spence.
Stimmung ändert Geschmack
Dem Experten nach beeinflussen Laune und Gefühlszustände die sensorischen Aspekte des Geschmacks. Dies führe auch dazu, dass nach einer Trennung oft nichts mehr gegessen wird oder das Essen nicht mehr so gut schmeckt wie in Phasen des Wohlbefindens. Die App erkennt Ärger, Angst, Freude, Überraschung, Traurigkeit und Ekel. Ist eine Person wütend, so werden beispielsweise ein beruhigendes Nahrungsmittel wie dunkle Schokolade oder Nüsse, die Magnesium beinhalten, vorgeschlagen.
Personen, die aufgeregt sind, wird eher etwas vorgeschlagen, dass den Blutzucker reguliert. Dazu zählen Gemüse und Vollkornprodukte. "Einerseits legt unsere Stimmung fest, welche Nahrung wir wählen. Andererseits kann uns die jeweilige Speise auch dabei helfen, glücklicher, energiegeladener, entspannter, konzentrierter sowie motivierter für den Tag zu sein", schildert Ernährungsberaterin Ruth Tongue.
pre