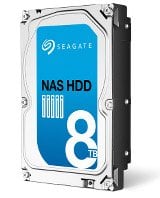 Seagate Technology, ein weltweiter Festplattenhersteller, hat die neue Seagate NAS HDD 8 TB vorgestellt. Mit höchster Kapazität ist sie für RAID-, Network-Attached Storage (NAS)- und Serverspeicherung optimiert.
Die verlässlichen und skalierbaren Festplatten unterstützen insbesondere kleine und mittelständische Unternehmen (KMU), Selbstständige sowie Profis der Kreativbranche beim Umgang mit stetig wachsenden Datenmengen.
Die Seagate NAS HDD 8TB ist die größte NAS-optimierte Festplatte auf dem Markt. Mit ihr benötigen Unternehmen weniger Festplatten – und dadurch auch weniger kostspielige Festplattengehäuse –, um ihren Speicheranforderungen nachzukommen. Die neuen 8-TB-Festplatten sind für den Einbau in Tower mit ein bis acht Bays ausgelegt. Damit bieten sie bis zu 64 TB in einem einzigen 8-Bay-Desktop-Gehäuse. Diese hohe Speicherdichte bietet auch kleineren Unternehmen genügend Kapazität und Flexibilität, um heutigen Speicheranforderungen gerecht zu werden und für künftige gewappnet zu sein.
"Unsere Kunden stehen mehr denn je unter Druck, da die Menge an Daten, mit der sie umgehen müssen, weiterhin rapide anwächst", sagt David Chiang, General Manager of Business Division bei QNAP Systems, Inc. "QNAP bietet skalierbare und verlässliche NAS-Lösungen, um dieser Nachfrage zu begegnen und Nutzern das Vertrauen zu geben, dass ihre Daten sicher und verfügbar sind. Die neue Seagate NAS HDD 8 TB wird professionellen Anwendern die notwendige Kapazität bieten, um die wachsende Menge an Daten einfach handzuhaben."
Datenmengen steigen weiterhin mit rasanter Geschwindigkeit an. Die "Digital Universe Study" des Analystenhauses IDC sagt voraus, dass sich die jährlich weltweit produzierte Menge an Daten zwischen 2013 und 2020 auf 4,4 Zettabytes verzehnfachen wird (IDC White Paper, The Digital Universe of Opportunities: Rich Data and the Increasing Value of the Internet of Things, April 2014.). Eigene Studien von Seagate zeigen zudem, dass insbesondere KMU NAS-Lösungen gegenüber anderen Speichertechnologien wie Storage Area Networks (SAN) oder Direct Attached Storage (DAS) bevorzugen, um der steigenden Datenflut Herr zu werden (Seagate NAS Box and Drive User Study: Q1 2015.). Unter den Befragten, die NAS-Lösungen bevorzugen, gaben 18 Prozent den Preis als Entscheidungsgrund an, 16 Prozent die einfache Bedienbarkeit und 10 Prozent die Qualität.
"Anwendern die gewünschte Flexibilität und Verfügbarkeit zu bieten ist eine ständige Herausforderung – gerade in einer Welt, in der immer mehr Nutzer mit immer mehr Endgeräten nahtlosen Zugriff und reibungslose Performance erwarten", sagt Chad Chiang, Product Manager bei Synology Inc, einem führenden NAS-Lösungsanbieter. "NAS-Lösungen entwickeln sich immer mehr zum Speichermedium der Wahl für Unternehmen mit begrenzten IT-Ressourcen, die eine schnelle und einfache Lösung für ihr Datenmanagement benötigen. Die neuen 8-TB-Festplatten von Seagate werden unseren Kunden enorme Kapazitäten für den Umgang mit den riesigen Datenmengen bieten, die ihre Nutzer generieren und teilen."
Die neue Seagate NAS 8 TB HDD ist für eine Vielzahl an Einsatzmöglichkeiten optimiert, beispielsweise für Backup, Disaster Recovery, Drucker- und Datenserver, Multimedia-Speicherung, Archivierung, Filesharing sowie Virtualisierung. Darüber hinaus haben führende NAS-Hersteller wie ASUSTOR, QNAP, Synology und Thecus die Kompatibilität der NAS HDD 8 TB für zahlreiche ihrer Produkte bestätigt.
Die Seagate NAS HDDs im Detail:
1-, 2-, 3-, 4-, 6- und 8-TB-Kapazität
Verwendbar in 1- bis 8-Bay-Gehäusen
Einfaches Auslastungsmanagement dank Workload Rate Limit (WRL) von 180 TB/Jahr — der weltweit höchsten WRL in dieser Kategorie von NAS-Festplatten
Erwiesene Robustheit dieser Festplattenfamilie mit Mean Time Between Failures (MTBF) von 1 Million Stunden
Verlässliche NAS HDDs mit begrenzter Dreijahresgarantie
Einzigartiger, optionaler Rescue Data Recovery Service von drei Jahren als Schutz vor potenziellem Datenverlust.